Sailors Falls Estate; named after the large waterfalls located at the streets corner offers the perfect retreat set in beautiful bushland with an abundance of wildlife, great bushwalking & mineral water at your door step.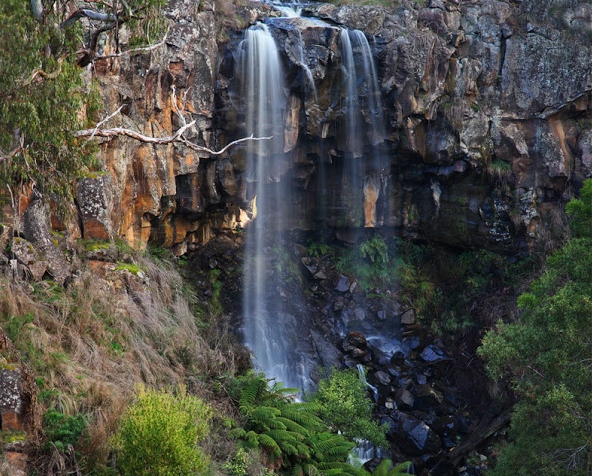 Only one hour from Melbourne & 5 minutes from Daylesford these luxurious and spacious self contained villas will put you in the right frame of mind to relax and enjoy your stay.
Secluded outdoor facilities including BBQ, wood fire oven, ( 2 hours notice is required prior to cooking to ensure a hot crispy pizza) and other picturesque spots on the property, at the falls or nearby Wombat Forest to pull out your picnic rug.
This estate will also place you close to Daylesford/Hepburn with their fabulous cafes, restaurants, galleries and various tourist attractions
Why Daylesford:
Daylesford and the surrounding region are beautiful, relaxing, interesting and your visit can be as adventurous, therapeutic or luxurious as you want it to be.
It is a town that allows you to choose your own adventure and boasts a number of local festivals and events during the year that you are welcome to take part in.
Painted in yellow daffodils as spring arrives, saturated with vibrant purple lavender during summer and providing lush green outlooks the rest of the year round, you can understand why people just keep coming back.
Local Activities include:
Massage & Day Spas

Pick up your wine glass & try some of the local produce with the Daylesford wine tours
Dine at some of the best regional restaurants in Victoria

Relax and unwind in peaceful surroundings

Bushwalking - Sailors Falls Estate backs onto the Wombat State Forrest and your hosts can provide you with in depth walking recommendations

Touring (wine/chocolates/coffee/lavender/arts etc.) Stroll around the Daylesford Lakes area

Browse the local bookshops and galleries

Golf at nearby Hepburn Springs Golf Club

Peruse some art at one of the local galleries

Shop for treasures at the local indoor and outdoor markets

Local events & festivals